ANIDOX x Sci-Vi PANEL - Let's talk about outreach
29sep15:1516:30ANIDOX x Sci-Vi PANEL - Let's talk about outreach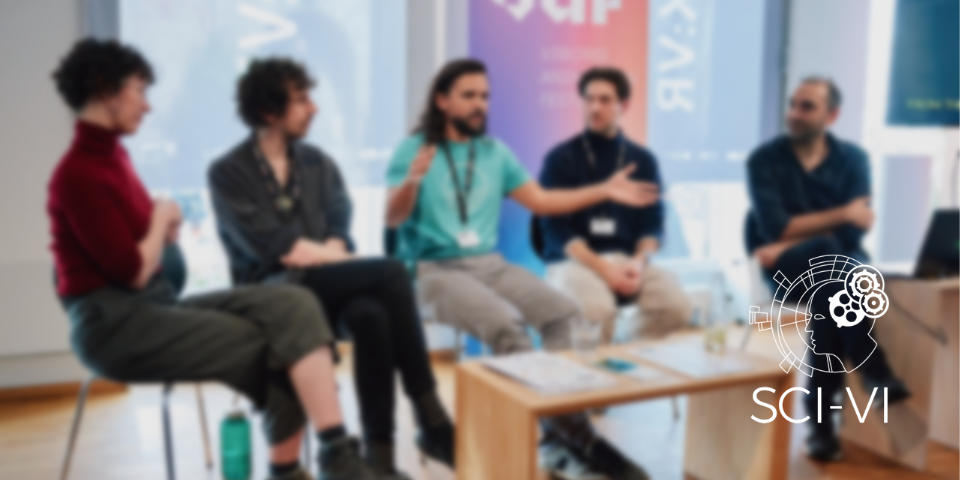 Event Details
ANIDOX:VR guests and jury
Jakob Kirstein Høgel, National Film School of Denmark
Jakob Høgel is a visual anthropologist, a digital media and documentary producer, as well as film consultant. A founding member of the ANIDOX community, he is well known for producing high profile documentaries, winning numerous international awards. Høgel works as a consultant at the Danish Film Institute, West Danish Film fund and globally. Until recently he was Head of content development and co-creation at the Danish National Museum. His current position is Head of Education and Research at the National Film School of Denmark.
Ana Brzezińska, Tribeca Festival (USA
Ana is an XR curator and creative producer working at the intersection of art, storytelling, and technology for over 15 years. Currently, she is responsible for Immersive programming at Tribeca Festival, USA. Tribeca Immersive, with its competition section for spatial and digital storytelling, is considered one of the most prestigious selections in the world. Ana serves as an XR and innovation expert to the Creative Europe and collaborates as a mentor and advisor with a number of organizations, universities, and businesses in Europe, North America, Asia and the Middle East.
Louise Haugstrup Jensen, The Danish Film Institute
Louise Haugstrup Jensen leads the VR distribution scheme at the Danish Film Institute, and has supported numerous award-winning projects, following the trajectory of the works from impact strategy design and development to presentation at national and international platforms.
Michelle Kranot, ANIDOX (moderator)
Michelle Kranot is the co-founder and producer of ANIDOX. A filmmaker and multimedia artist based in Denmark, she has been working with her partner and co-director Uri Kranot as a duo for 20 years. Michelle is a member of the Academy of Motion Picture Arts and Sciences and The Académie des César. She has been recently honored with the Grand Jury Prize for Best VR Immersive Work at the 77th La Biennale di Venezia and Best Immersive XR at the 74th Cannes Film Festival. Michelle holds the position of researcher and project leader at The Animation Workshop.
Time

(Friday) 15:15 - 16:30
Location

Parolesalen

Kasernevej 8-10, Viborg
Speakers for this event
Ana Brzezińska

Ana Brzezińska

XR curator and creative producer

Ana is an XR curator and creative producer working at the intersection of art, storytelling, and technology for over 15 years. Currently, she is responsible for Immersive programming at Tribeca Festival, USA. Tribeca Immersive, with its competition section for spatial and digital storytelling, is considered one of the most prestigious selections in the world. Ana serves as an XR and innovation expert to the Creative Europe (European Commission framework programme for support to the culture and audiovisual sectors) and collaborates as a mentor and advisor with a number of organizations, universities, and businesses in Europe, North America, Asia and the Middle East.

XR curator and creative producer

Jakob Kirstein Høgel

Jakob Kirstein Høgel

Visual anthropologist, a digital media, documentary producer and film consultant

Jakob Høgel is a visual anthropologist, a digital media and documentary producer, as well as film consultant. A founding member of the ANIDOX community, he is well known for producing high profile documentaries, winning numerous international awards. Høgel works as a consultant at the Danish Film Institute, West Danish Film fund and globally. Until recently he was Head of content development and co-creation at the Danish National Museum. His current position is Head of Education and Research at the National Film School of Denmark.

Visual anthropologist, a digital media, documentary producer and film consultant

Louise Haugstrup Jensen

Louise Haugstrup Jensen

Danish film institute's Strategic advisor

Louise
is the Danish film institute's Strategic advisor for the film industry on
communication, marketing and distribution strategies.

Her
role includes evaluation of market and audience potential of new film projects
in the making.

She
specializes in film, series, documentaries, kids content, audience research,
marketing, PR, social media, distribution.

Louise is also involved in strategic planning of XR
distribution in Denmark.

Danish film institute's Strategic advisor

Michelle Kranot

Michelle Kranot

Co-founder and producer of ANIDOX

Michelle Kranot is the co-founder and producer of ANIDOX. A filmmaker and multimedia artistbased in Denmark, she has been working with her partner and co-director Uri Kranot as a duo for 20 years. Michelle is a member of the Academy of Motion Picture Arts and Sciences and The Académie des César. She has been recently honored with the Grand Jury Prize for Best VR Immersive Work at the 77th La Biennale di Venezia and Best Immersive XR at the 74th Cannes Film Festival. Michelle holds the position of researcher and project leader at The Animation Workshop.

Co-founder and producer of ANIDOX